21 Sep 2010
Alarms & Mailplane: Schedule Gmail conversations
Alarms is an extremely handy application I use everyday. It was the main reason why the "Drag Mailplane URL from the title bar" feature was implemented.
Well, what is Alarms anyway? Alarms "sits" in the menu bar and alerts about scheduled events. When an event is due it'll display a Growl notification, flashes its icon, and plays a sound.

The coolest part is how Alarms lets me create an event. I just drag a document, a Safari URL, or in most cases a "Mailplane URL" to the title bar.
Alarms slides the screen down to reveal a calendar (it reminds me of TimeMachine) and allows to drop the URL on the day or hour to schedule it.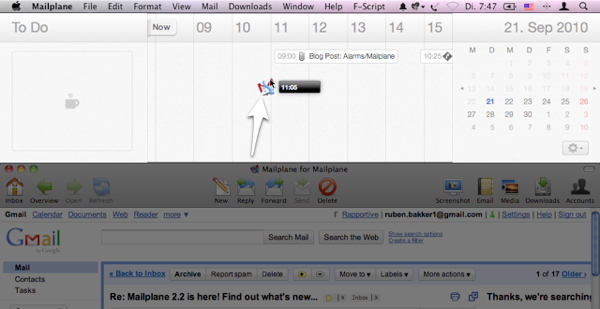 When the event is due, I click the "eye" icon to open the URL and work on it. Mailplane will then open the linked conversation and I've all required information to complete the task. When I am done, I just check the mark and the task disappears.

Sounds useful? It is. Check out Alarms