02 Jul 2009
Gmail Labels: drag and drop, hiding, and more
Gmail's labels have much improved, here's what I found on the official Gmail blog:
A few months ago Gmail got some new buttons and keyboard shortcuts to make labeling easier, especially for those of you accustomed to that familiar folder feel. Now we're making some more changes to Gmail's labeling toolkit.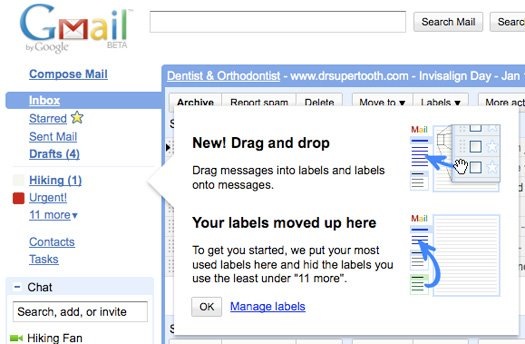 1) New location for labels
You'll notice your labels in a new location on the left of your inbox (or on the right, for those of you using the Arabic, Hebrew, or Urdu versions of Gmail). Instead of having their own section, your labels are now above your chat list, grouped together with Inbox, Drafts, Chats and other system labels.
2) Label hiding and showing
You now have control over which of your labels show. We've done our best to get you started by automatically showing the labels you use most and hiding the rest. Label hiding is my favorite new feature, since it saves me from having to look through labels I rarely use. If I ever need to reach any of my old labels, I just click the "more" link.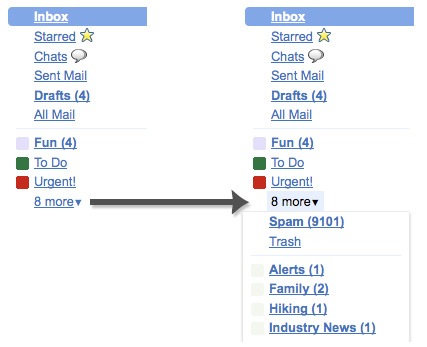 You can show, hide, or delete a label by clicking the down-arrow to the left of that label.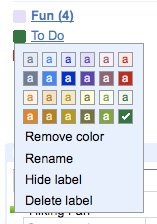 If you want to make a lot of changes at once, go to the Labels tab under Settings where you can edit labels in bulk.
For those of you who created label names like _stuff or ++todo++ to force your most-used labels to the top of the list (come on, you know who you are, I did it too...), you don't have to come up with clever tricks like that anymore ;)
3) Drag and drop
You can now drag messages into labels, just like you can with folders. This does the exact same thing as "Move to" -- it labels and archives in one step.

You can drag labels onto messages too. It's the same thing as using the "Label" button. To label or move many messages at once, first select the messages and then drag and drop the label.

It's also possible to drag labels into the "more" menu to hide them and vice versa. If you only want to move a couple labels around, I've found it quicker than going to Settings.
All of these changes also mean the end of Right-side Labels, an experimental Gmail Labs feature. This is the first Labs feature we're retiring. (The idea behind Labs was always that things could break or disappear at any time or they might work so well that they become regular features. More on that soon...) Now that labels aren't in their own little box and take up much less space, moving them around the screen didn't seem as important. We realize quite a few of you used and liked Right-side Labels, so if you feel strapped for left nav screen real estate without it, try turning on Right-side Chat in Labs instead.
We hope these new changes make labeling even easier and help you stay organized. We'll be rolling out these labeling features for everyone throughout the day, so if you don't see them right away please check later today.