06 Feb 2011
Mailplane 2.3 released
NEW: 'Hide Ads' Preference

You can now hide the sponsored links in Mailplane. Just turn on the 'Hide ads' setting in Preferences > Tweak UI.
NEW: 0Boxer Plugin

0Boxer is a plugin for Gmail. It turns "inbox zero" into a game. You get points when you answer, archive, or delete email.
NEW: Improved External URLs
All links inside a window opened with Command-Click open inside Mailplane instead of your default web browser.
For security reasons: When a window contains 'non-Gmail' content, the URL is displayed in the status bar.
NEW: New message window title now contains the account name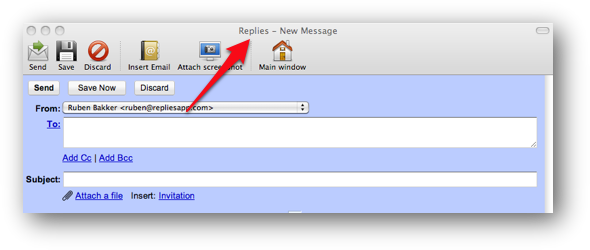 When you compose a message in a separate window, you now see the current account in the title bar of the window.
Tip: To change the name of the account, go to Preferences > Account and give it a 'Nickname'.
UPDATED: Plugins
The TrueNew plugin got some fixes and improvements. Thanks to the Mailroom Team for creating this update.
Improved Rapportive integration, now supports Facebook and Linkedin
UPDATED: Translations
French by Michel Tribet
Romanian by Ovi Pascui
Spanish by Juan Antonio Vermejo
Bug fixes
IMPROVED: Unread message counters refresh when unread conversation is opened in a separate window.
FIX: Click the reply box caused focus problems. Now the reply box is hidden, please click 'Reply' or 'Forward' links or use the Command-R (Mail > Reply menu item) to create a new reply.
FIX: Cookies were stored for accounts not saving the password.
FIX: Some attachments could not be downloaded.
FIX: Crash after closing a separate document and then switching to another account.
FIX: Crash when using AppleScript to attach a non-existing file
FIX: Command-L didn't work in searches
FIX: Separate window position wasn't correctly remembered
FIX: Focus jumped to 'subject' field when opening a new compose window and typing into the 'to' field.
FIX: Download window filename was wrapped by word instead of character.
FIX: Delay when miniaturizing a window