28 Nov 2008
Mailplane 2.0 Release Candidate 3
New: Navigate Quick Links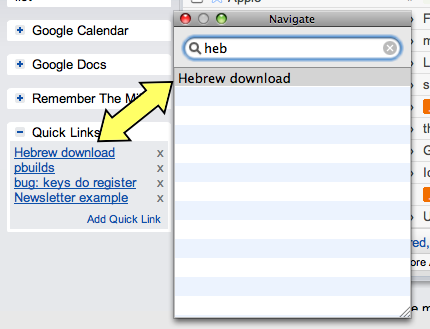 The "Quick Links" Google Lab features, allows you to link to conversations, searches or any other Gmail page. Now the "Navigation" keyboard pop up will show all your "Quick Links" for easy navigation. Press ⌘⌥G or use the "Mail->Goto->Navigate..." menu item to open the navigation dialog. Check out this screencast to learn more about the navigation panel.
Improved: Keychain Access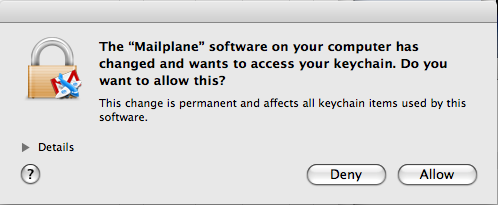 As Mailplane is now "code signed", future releases won't ask for Keychain permissions anymore. This version, however, will still ask for the Keychain permission changes.
Bug fixes:
Some users experienced problems attaching files
Some Google Apps users experienced 403 (permission denied) when clicking the "Contacts" link
Removed Popup Blocker warnings
When started in "Hidden" mode: opening conversations would not work
New windows created by the Google Calendar Gadget didn't work correctly (parameter errors)