16 Oct 2009
New Gmail Lab Feature: Google docs previews
If you're a Google docs user, you may like the preview lab feature: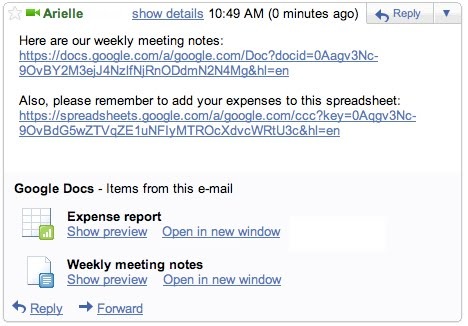 Being an avid Google Docs user, I receive a ton of emails with links to documents that my co-workers and friends share with me. From technical design documents at work to my roommate's expenses spreadsheet, my inbox is full of document links that I need to view as I reply to my mail.

Opening these links in another tab or window is kind of annoying, plus it can be tough to keep the context of the email in mind while viewing the document.

Starting today, you can preview the contents of a Google document, spreadsheet, or presentation right in your Gmail inbox — just like you've already been able to do with YouTube videos, Yelp reviews, and Picasa and Flickr albums. Gmail will automatically detect when you receive a document link and display the name and type of doc below the email.

Just click "Show preview" and the contents of the document will display right there — no need to switch back and forth between email response and document.