09 Dec 2008
New Gmail Lab Feature: Tasks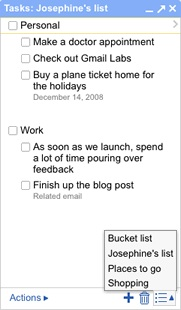 Exciting news for Mailplane users! There is a brand-new "Tasks" Google Lab feature, it allows you to quickly create and manage tasks. Like the Mailplane OmniFocus plugin, the tasks contain a link to a gmail conversation.
People use Gmail to get stuff done, so we've added a lightweight way to keep track of what you need to do, right from within Gmail. Take entering a new task: just click in an empty part of your list and start typing. No buttons to click and it's saved automatically. Hit Return and you've got a new task right there.
You can also easily convert emails into tasks: select one or more messages and go to More Actions > Add to Tasks. (Or use the + t keyboard shortcut)
More info can be found on the official Gmail blog:
We put your tasks in the same kind of window as chats, so they're visible while you're scanning your inbox, reading mail, or searching (and in Settings, too!). Just pop your list out into a new window to use Tasks outside of Gmail. To enable Tasks, go to Settings, click the Labs tab (or just click here if you're signed in). Select "Enable" next to "Tasks" and then click "Save Changes" at the bottom. Then, after Gmail refreshes, on the left under the "Contacts" link, you'll see a "Tasks" link. Just click it to get started.