26 Oct 2009
What's new with Gmail on iPhone
Google just blogged about the Gmail improvements on the iPhone: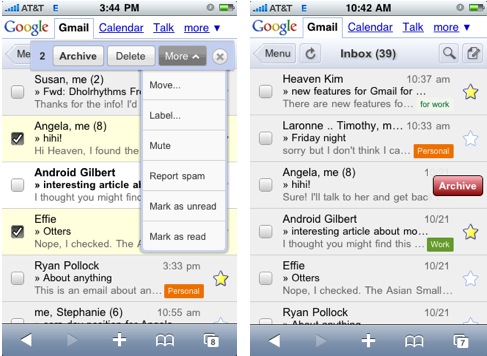 Over the last six months, we've added a lot: mute, label management, keyboard shortcuts, smart links, an outbox, and the ability to move messages (label and archive in one step). Some new features, like swipe-to-archive and auto-expanding compose boxes, take advantage of these mobile phones' unique properties. We also made address auto-complete faster, enhanced refresh capabilities, and sped up loading so Gmail for mobile starts in under three seconds on newer smartphones.

We'll continue to add more functionality —and there's no need to download or update anything as long as you have iPhone/iPod touch OS 2.2.1 or above or are using an Android-powered device. Just go to gmail.com from your mobile browser as you do on your PC.