3.6.8
Released on 25 Nov 2016



Use active tab as Default Sender
Added option 'Use active tab' to Default Sender preference (Preferences > General). It does always use the account of the currently selected tab to compose messages (e.g. via mailto:).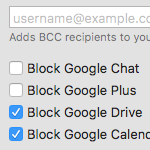 Block Google Calendar Alerts
'Block Google Calendar Alerts' (Preferences... > Accounts > Advanced) suppresses notifications coming from Google Calendar. It helps to prevent getting notified multiple times for the same event (e.g. if the Apple's Calendar app is already notifying).
Fixes and Improvements
Added 'Copy Email Address' for mailto: links to context menu
Enabled 'Paste' context menu item
Added 'Refresh' menu item for Google Inbox
Refined 'Go to' menu for Google Inbox by adding Snoozed and Done menu items
Updated WebKit to the same as Safari 10.0.1 is using
Keep 'Save to OmniFocus' enabled if looked up via the Help menu