November 26, 2013 - 3.1.1

Gmail's new attachment experience
Mailplane now supports Gmail's new attachment experience. We still use QuickLook instead of the new preview feature because Google Drive still doesn't fully support multiple sign-in. But if you like, you can switch by unblocking Google Drive via Preferences... > Accounts > Advanced.

Primary Inbox Tab
Mailplane Notifier now supports Primary Inbox Tab. Simply set the Inbox Type to 'Primary Inbox Tab' inside Preferences... > Accounts > General.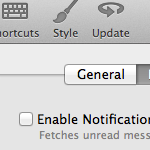 Notification Authentication
Mailplane doesn't always require an explicit authentication anymore if enabling notifications. We are now taking an optimistic approach and try to fetch unread messages with username/password and show the authorization dialog only if it fails (e.g. 2-step-verification).

Small Improvements
* Fixed download issues for files with Korean or Japanese file names
* Fixed 'Export Contacts' which broke due to a recent Google change